Download the Latest Dynamics CRM Online and Dynamics 365 Webcast!
Our experts demonstrated how Microsoft Dynamics CRM Online (CRMOL) and Office 365 forms a powerful tool to seamlessly connect information with the people and processes inside your business.
This is a non-technical discussion from an executive level view. Q4 of 2016, our Business Development and Customer Relations Manager demonstrated customizations that deliver the most relevant information to your teams for focused activities that advance your company objectives. Included in this presentation will be a high-level presentation on Dynamics 365. 
Q4 2016
 Featuring NexusTek's Dynamics CRM experts,
Chris Corbett and Kathryn Lanpher
Recorded event now available for download!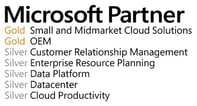 FOR MORE INFORMATION OR TO SET UP A MEETING WITH ONE OF OUR CLIENT SPECIALISTS, SEND AN EMAIL TO [email protected] OR CALL 303-773-6464