The new Dynamics 365 Sales mobile app, now available for preview, is optimized to help your Sales team stay productive from wherever they're working. The key capabilities of the mobile app enable sellers to prepare more thoroughly for customer engagements, log and share information quickly, and easily find information they need. You will not only be able to view data from Dynamics 365, but you'll also be able to view data from Exchange in the app.
Benefits of using the Dynamics 365 Sales Mobile App
Utilize time more effectively - Field sellers spend a lot of time on the road, traveling to meet clients. With the mobile app, "on-the-go" time becomes productive time.
Easy - The Dynamics 365 Sales mobile app is easy to use. You can simply sign into the mobile app by using the same work email address used for Dynamics 365. Salespeople can easily find the information they are looking for.  Salespeople can easily find contacts and recent records. The app is exceedingly simple to navigate and is available on both iOS and Android.
Stay more organized -Salespeople are able to take post-meeting actions such as adding notes, creating contacts, or updating important data in relevant records. It becomes a cinch to stay up-to-date with important information.
Plan - The mobile app can be used to plan and map out your day by seeing what your day has in store - in terms of upcoming meetings, appointments, etc. Upon opening the app, salespeople immediately see reminders about customer meetings or insights for the day.
Build customer relationships and loyalty - Salespeople have quick access to customer information on-the-go, making it easy to keep information up to date and to respond to customers quicker. This not only simplifies the customer relationship, but also helps sellers to focus on selling. Salespeople go into meetings better prepared - as they can review important customer information prior to customer engagements.
Home page
Upon opening the Dynamics 365 Sales mobile app on your mobile device, you'll see the home page. This home page provides high level information on the meetings and insight cards - specific to you.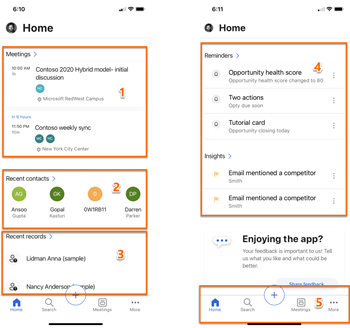 The home page displays five different types of information: meetings, recent contacts, recent records, reminders, and insights.
Meetings
The meetings section shows important information to salespeople about the last meeting they were in, as well as the next meeting coming up. They will also have the ability to see information on all meetings in this section.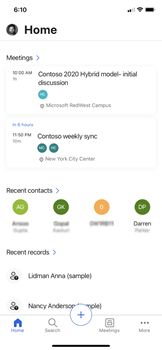 to learn more, visit our blog