Dynamics 365 Customer Engagement is a key tool in increasing productivity. Our Dynamics 365 navigation guide can be an excellent training tool – as well as a great reference guide to refer back to. In Dynamics 365, you are never more than a few clicks away from the information you need to access. Let's explore how simple it is to get around Dynamics 365. We will begin by defining some important and relevant terms.
Apps – are collections of functionalities for accomplishing a certain types activities.
Work Areas –  are subdivisions of apps – which are dedicated to specific features. Each work area contains a targeted collection of entities for working in a particular area. In some cases, the same entity appears in more than one area (or even more than one app). The Contact and Account entities, for example, appear in a variety of apps and work areas. Use the work-area menu to navigate between work areas for your current app.
Entities -Entities are tables that hold a certain type of data. Entities consist of collections of individual records. For example, for the lead entity – each record consists of a single person, containing a collection of fields such as first name, last name, and email address. Entities consist of two types of views: list views, and form views. In order to move between entities, use the side navigator.
Form views – are views that show all available data and settings for a single record.
List views – entities listing available records.
Dynamics 365 Navigation: Moving between apps
To move between apps:
Click on the current app name in the app selector.

A list of apps will appear. Choose the one you want to navigate to.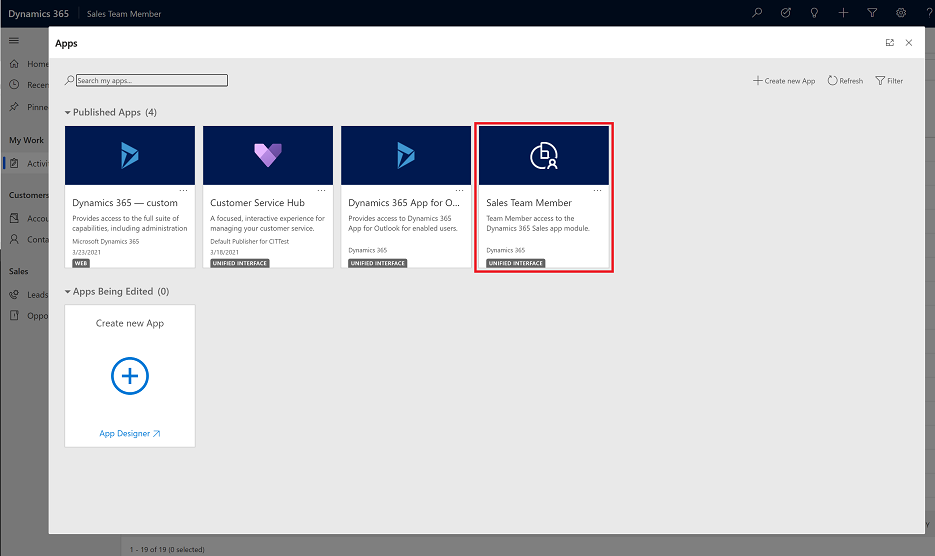 Moving between pages and records
The following illustration shows the main Dynamics 365 navigation components. Quickly and easily get around and back to your favorite or most-used items.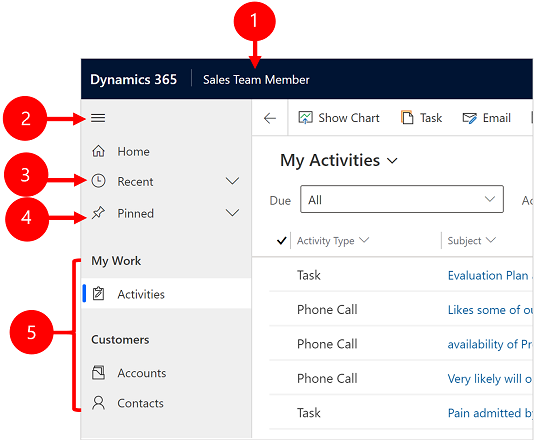 App Selector – Click on the current app name to switch to a different app.
Hamburger Control – Click on the hamburger control to collapse or expand the site menu. If the site menu is already collapsed, select this button to expand it again.
Recent records – Click on recent records to view a list of records you have recently viewed.
Pinned records – Click on pinned records to view a list of your favorite (or pinned) records. To add records to this list, click on the push-pin icon next to a record. To remove a record from this list, click on the remove-pin icon next to the record.
Page navigation: This area lists each entity and dashboard page available for the current work area. Select any entry here to open the named dashboard or list view for that entity.
Go Back button – Use the back button to go back to the previous page you were working on.
Reference panel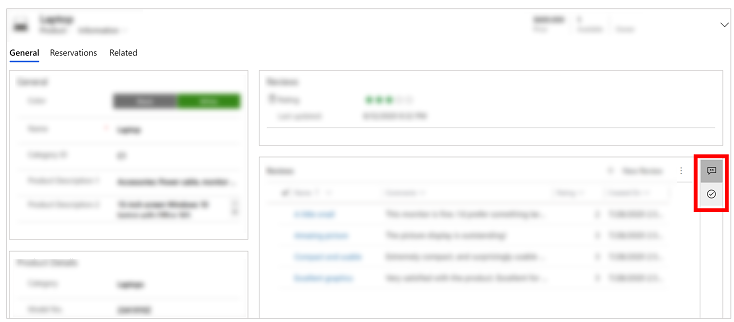 Using the Reference panel can save a substantial amount of time. Many times you need to look up other items related to the record you're viewing, but it can be very time consuming to have to navigate to other screens. The Reference Panel enables you to look up related items without the need to navigate to other screens.
Watch this Microsoft video to learn more about using the Reference Panel.
Working with record views (also referred to as form views)
Record views are views that show all available data and settings for a single record.
Open a record view by selecting a record that appears in a list view. A record view may also be opened by following a link from a related record.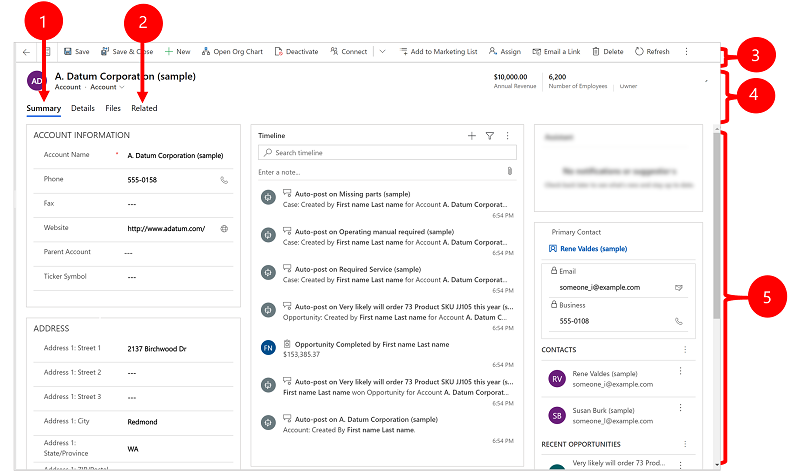 Tabs: Record views are divided into tabs. Each tab contains a collection of related fields from a particular record. Tabs are listed below the record name when they are available. The current tab being used is shown as underlined. To go to a tab, select the appropriate tab name.
Related: The Related tab is a drop down list of different types of records related to a displayed record. After a record has been saved at least once, it is displayed as a  Related tab.
Command bar: To perform a task related to a particular record or to operate on the current record, use the commands in the command bar. Typically the command bar can be used to perform tasks such as saving changes, deleting records, emailing a link to the record, reassigning the record owner, or exporting the record by using a Word template. However, available commands can vary by record.
Heading bar: The heading bar can be found in the upper right hand corner. Typically, the fields displayed here are fundamental to working with records. Here, users will find information such as the record owner, record status, date created, or a monetary amount.
View and edit all field values: Within the main body of the record view, all of the fields related to the current tab will be found. Required fields are marked with a red asterisk. A record can't be saved without required fields being filled in. Fields that not required are marked with a blue plus sign. Fields showing a lock icon are read-only and can only be edited by an administrator.
Working with list views
When an entity is opened, a list of all records pertaining to that entity are displayed. For example, if the accounts entity is opened, a list of all accounts will be displayed.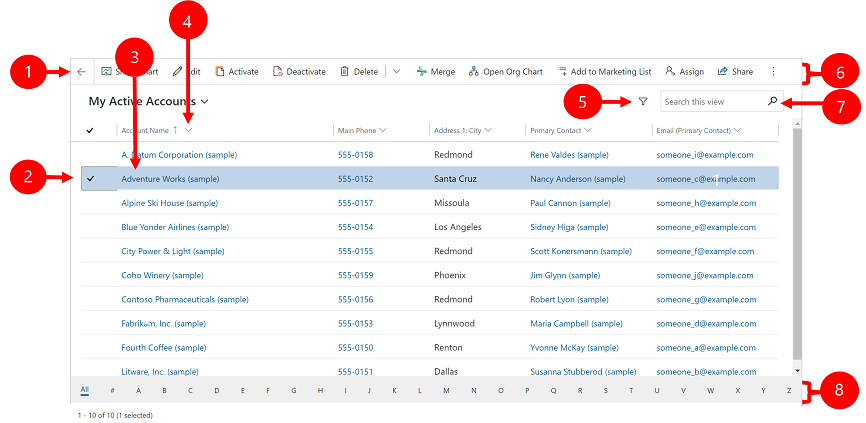 The following functions may be performed in the list view:
Go back: Select the backwards arrow to go back to the previous page.
Select records: Place check mark(s) in this column to select one or more records. A single operation may be applied to many selected records at once by using buttons in the command bar. For example, copying records such as recurring invoices. Note – when the Email a link command is used on the command bar, only up to 10 records may be selected.
Open a record: To open a record, click on the record name.
Sort or filter the list: Sort or filter the the list by clicking on the arrow in a certain field. Open advanced filtering panel: See which filters are applied to the current view and add or modify view filters.
Command bar: Use the commands in the command bar to perform related tasks. Most commands (such as delete or deactivate) require that you first select one or more target records by placing a check mark in the left-hand column whereas some functions operate on the entire list.
Search this view: To search the view, enter text in the search field (in the top right-hand corner) to show only those records in the current view that contain your text. The search this view bar is different from the global search bar found in the top-middle of the screen. The global search bar can be used to search across Dynamics 365.
Jump bar and paging: To view only records that start with a certain letter, select that letter from the jump bar. For example, if you were searching for a certain account, such as John Smith, you would click on the letter "J" in the jump bar. If the list contains more records than what can be displayed on a single page, use the paging arrows at the bottom of the list to move forward and backward through the pages.
Record Set Navigation
Record Set Navigation allows users to navigate through multiple records by using preset views and queries. Watch productivity skyrocket as users are able to easily jump from record to record in the list and quickly navigate back without losing their working list.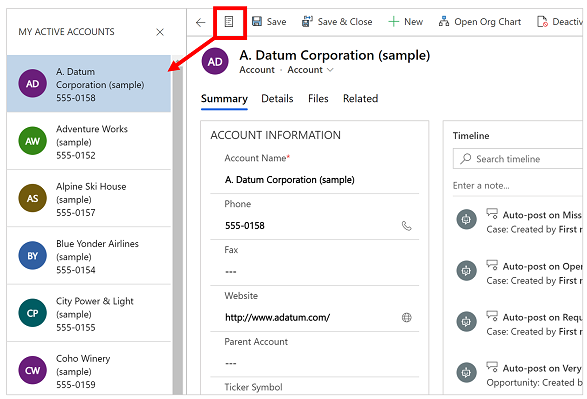 To use Record Set Navigation:
 Open a page with a list of records.
Choose a record to open and then select Open Record Set 
Select a record from the list.
The number of records that you are able to see in the record set navigation pane is based on the number of records that your system administrator has defined for the subgrid.
App message bar and notifications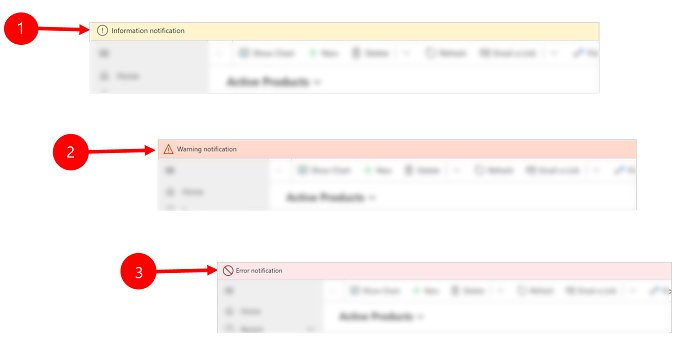 The app message bar displays three types of warnings:
Informational notifications
Warning notifications
Error notifications
When you select the error notification, you will be taken you to the field on the form in which the error occurred.
If you only have one notification, a straight line will be displayed. If you have multiple notifications, a chevron button (2 lines) will be displayed.
In Conclusion
We hope our Dynamics 365 Navigation Guide has shown you just how easy it is to get around in Dynamics 365. Once you know the basics, getting around in Dynamics 365 is a breeze because there is so much consistency. Our Dynamics 365 Navigation guide is a great training resource, as well as a great document to refer back to.
How can we help?
Because Dynamics 365 is  continually evolving, you need expert guidance to determine exactly which apps fit your business needs and strategies.
You also need expert help to set up and tailor Dynamics 365  to your business processes and to support you over time – as your business grows.
That expert guidance and assistance comes from a Microsoft Dynamics Partner, like enCloud9.
enCloud9 works with your business's specific needs, from assisting in the selection process to licensing – all the way to implementation and go live. And enCloud9 doesn't walk away when your solution is in place. We support your business so that your solution is always up to date and running smoothly.
Contact us today. We'd love to hear about you and discuss how Dynamics 365 can improve the way you do business.
We can get you started quickly with our Sales Accelerator. Our Accelerators are prepackaged Dynamics 365 implementations designed to get your business up and running rapidly.
We hope our Dynamics 365 navigation guide has demonstrated just how easy it is to get around in Dynamics 365. This month, we have focused on the "Basics of Dynamics 365." You may enjoy some of our other recent articles such as our Simple Guide to Dynamics 365 or our CRM Glossary. To learn more about doing other functions in Dynamics 365 such as creating a personal view, creating a personal dashboard, or sharing views, charts, and dashboards – visit our blog.