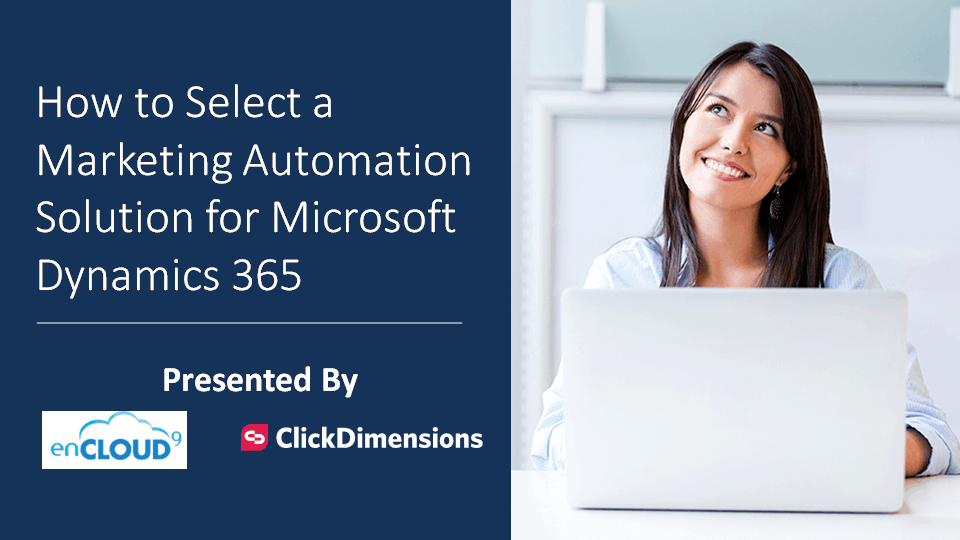 enCloud9 and ClickDimensions recently collaborated on a webinar about selecting the right marketing automation solution for Dynamics 365 and here are the takeaways.
What is Marketing Automation and Why Is It So Important Today?
Marketing automation refers to the software that enables various marketing actions to be automated. This includes many repetitive tasks such as emails, social media, and other website actions. We all know how much time can be saved by automating these repetitive tasks from our busy schedule. For example, with marketing automation tools, what initially took months, now takes days, hours, or minutes.  Here is a great infographic that ClickDimensions created explaining what marketing automation is.
Marketing Automation allows companies to target leads and customers with automated messages across email, web, social, and text. We've defined what marketing automation is. Here is a great article from ClickDimensions that discusses what marketing automation isn't. ClickDimensions has written extensively on marketing automation. Although marketing automation features may vary by platform, the diagram below shows some of the common features you will find in a marketing automation solution.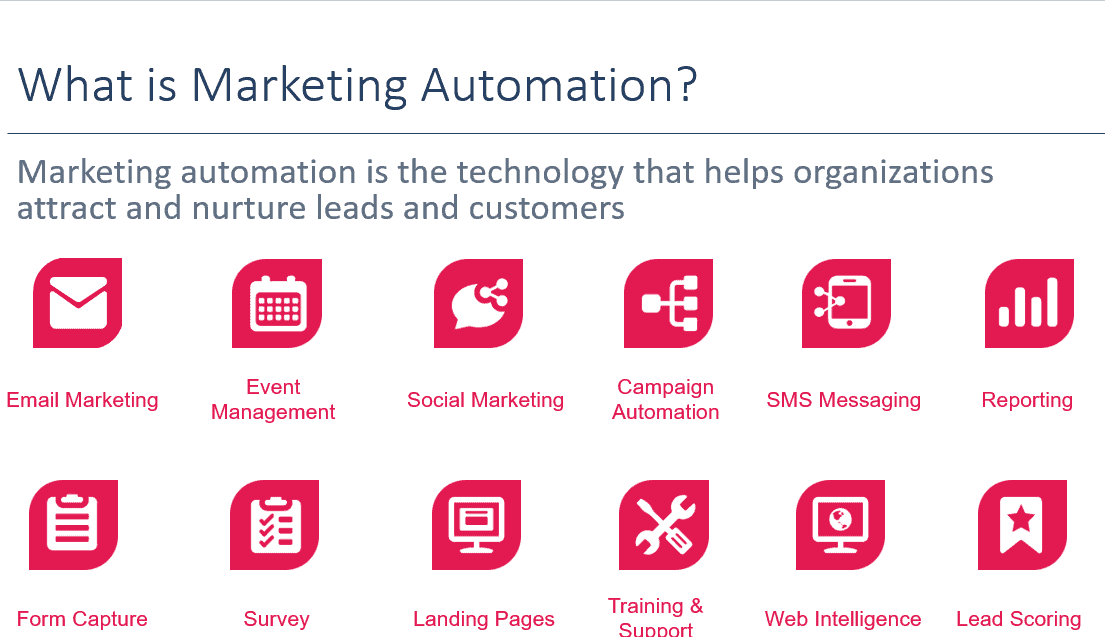 The way companies market and sell has changed, due to the internet and social media. Buyers have any information they want at their fingertips at any given time. They expect more timely and personalized interactions from companies. According to Fleishman-Hillard, 89% of customers begin their buying process with a search engine.
In order to compete in today's market, marketing automation is a must. According to LinkedIn, 80% of marketers use marketing automation software. Marketing automation enables companies to generate more leads, close more deals, and accurately measure marketing success.
When Selecting a Marketing Automation Solution
Choosing the right marketing automation solution for your company takes some careful consideration. There are many marketing automation solutions out there. Although they all have similar features, all platforms are not "one-size-fits-all," especially when it comes to CRM integration.  When selecting a marketing automation solution, there are basically eight questions you must ask yourself:
Does it include the features your organization needs?

Think about what your company needs now and in the future. Choose a solution that can grow with your company.
Is it easy to implement and use?

While functionality is an important factor when choosing a marketing automation solution if the solution is difficult to implement and use, your organization is unlikely to reach maximum ROI.
What are the options for training and support?

Make sure to look for training and support that allows you to get the help you need when you need.
Does it integrate well with Microsoft Dynamics 365?

ClickDimensions' powerful marketing automation solution is natively built inside Microsoft Dynamics 365.
Continue to our blog to learn more about choosing the right marketing automation solution.