Salespeople engage with many customers every day. Salespeople are responsible for qualifying leads, nurturing opportunities, and acting effectively in a timely manner. In addition, they are expected to operate according to the processes recommended for their organization. Sequences help sellers comply with these processes by following a predefined set of actions reflecting their company's best practices. In this article you will see how easy creating and managing sequences is.
Every organization has its own sales processes for sellers to follow. Sales managers and administrators can create Sales Sequences that define the activities they want their salespeople to perform—and the order they want them to perform them in.
Sequences guide salespeople through a recommended set of activities over the course of a sale. These Sequences are developed by the organization as a set of best practices designed to quickly qualify and close sales opportunities. Salespeople can view their next activities on a Sequence dashboard designed to let them concentrate on selling.
Sequences is a feature of Dynamics 365 Sales Insights Premium. Sequences is available with the Dynamics 365 Sales Insight Add on to Sales Enterprise OR with a Dynamics 365 Sales Premium license.
Creating a New Sequence
To create a new Sequence, click on the Sequences tab in the Sales Insights setting. Then in the upper left area click on the + New button.
You will then be prompted to create basic information about the Sequence. You must give your Sequence a name, description, and choose the entity (lead or opportunity).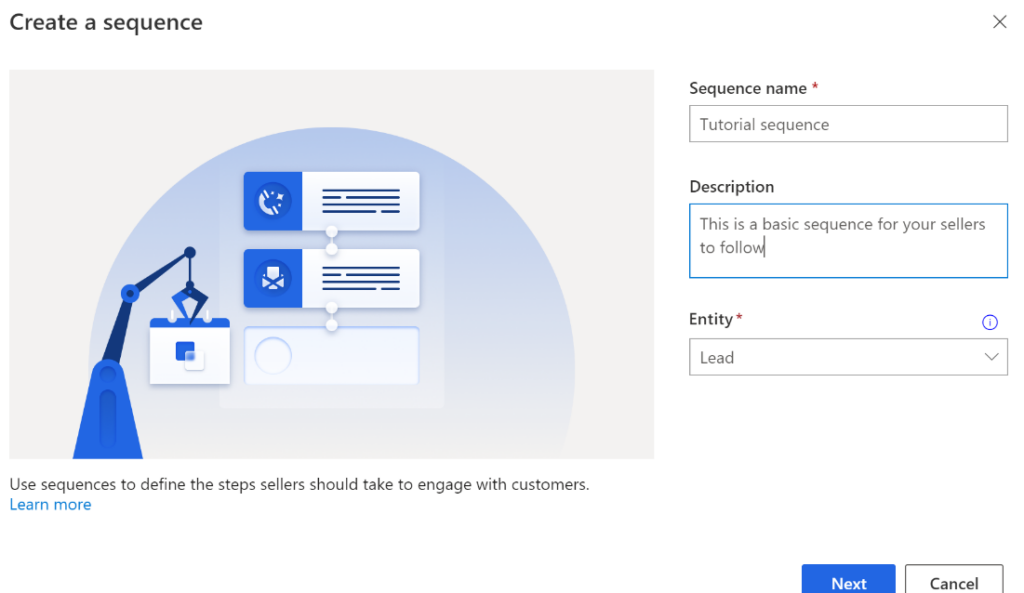 After clicking next, you must choose the first activity for your seller to take.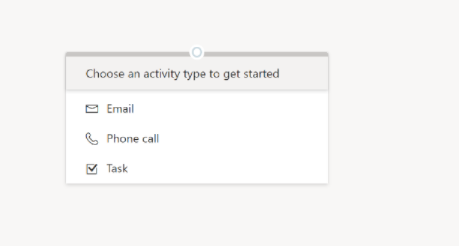 To add more activities, click on the + new button. Set time intervals between activities can be defined by using Set wait times.
When you have added the desired amount of steps, make sure to save your sequence (in the upper right-hand corner of screen).
An important last step is to activate your Sequence. You must do this in order for it to be available. The activate button is also found in the upper right-hand corner of the screen (next to save).
As soon as you have activated your Sequence, you can view it in the Sequences list view.
Connecting a Sequence to a record
Connecting a Sequence to a record can be done either manually or automatically - by creating a flow.
Connecting a Sequence to a record manually
Navigate to the relevant list view (leads or opportunities).
Choose the relevant record(s). This can be one or many.
Click on Connect Sequence in the command bar.
Choose or search the sequence you want to connect and choose Connect.
Connecting a Sequence to a record automatically
Connecting a Sequence to a record can also be done automatically through Power Automate. A flow can be created that will automatically connect the record to the Sequence when a trigger satisfies the flow condition. For directions on how to connect a sequence to a record automatically, click here.
Disconnecting a Sequence from a record
1.Navigate to the Sequences list view.
2. Choose the sequence you would like to disconnect.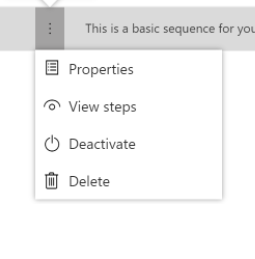 4. Then click on the Connected Records tab.

5. Choose the record you wish to disconnect and click Disconnect.
Once you have disconnected this Sequence from the record, no activities will be generated for it.
Editing Sales Sequences
In order to edit a Sales Sequence, you must have a System Administrator or Sequence Manager role.
The first step to editing your Sequence is to deactivate it. Once your Sequence is inactive, you may now edit your Sequence. Activities for your seller to take can either be added or deleted.
Creating and managing Sequences is easy!
So you see how easy creating and managing Sequences in Sales Insights is. Sequences help sellers prioritize activities to focus on selling, be more productive, and better align to business processes.
Get Started with Dynamics 365 Sales Insights and Sequences
Sequences are part of the paid version of Microsoft Dynamics 365 Sales Insights. You can add Sales Insights to your existing Dynamics 365 Sales Enterprise for $50/user/month or, you can buy a bundle including Sales Enterprise and Sales Insights for $135/user/month.
Let enCloud9 help you maximize your investment in Dynamics 365 by deploying Sales Insights.
Start selling smarter and grow your sales today with AI-driven insights. If you are ready to supercharge your sales contact the experts at enCloud9 to get started with Dynamics 365 Sales Insights.
Visit our blog for more ideas and tips on sales. Our blog is focused on helping you to get the most out of your Dynamics 365.