As the CRM software market reaches $25.21 billion in 2018, mobile has become a key capability of every modern and comprehensive CRM application. When selecting the right CRM for your business, you need to ensure its mobile features are in line with your goals and are capable of driving you towards success. Both Microsoft Dynamics CRM and Salesforce offer a host of mobile features that are carefully curated to meet the growing needs of the mobile workforce. Let's look at each of them in detail.
Dynamics CRM Mobile Features
The Microsoft Dynamics CRM app has a number of features and benefits that help the mobile workforce do their jobs with more efficiency and accuracy. You can do almost everything you can do on a desktop computer on the go, and with the offline feature, even in the absence of the internet. Let's look at the top mobile features of Dynamics CRM:
Easily Access Activities, Accounts, Contacts and Leads
Dynamics CRM mobile app allows you to access important CRM data such as activities, accounts, contacts, and leads from an easy-to-use home page on your phone. Even when you are remote, you can pull up relevant information about the opportunity from client information, and past transactions, and quickly move ahead.
Use Guided Contextual Business Processes
The Dynamics CRM mobile app shows the business process bar on forms. This gives a clear step-by-step guidance for building customer relationships. You can see, at a glance, exactly where your company stands with respect to a particular customer and what future actions you need to take to strengthen your relationship.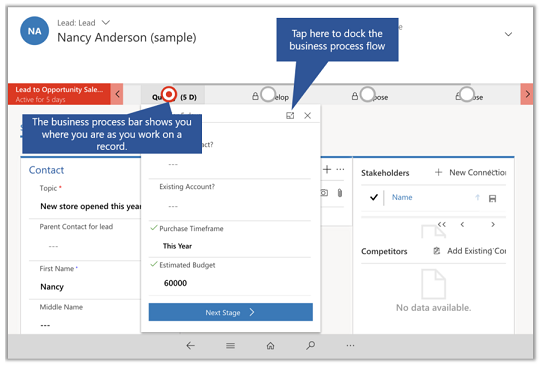 Enter Data
Entering data is seamless in Dynamics CRM mobile; you can quickly and easily enter customer data with only a few taps. You can also easily create appointments, update meeting notes, accounts, leads, opportunities, and quickly fill in all other customer-related information.
Track KPIs
With every company having its own specific goals and KPIs for their business, capturing data and detailing it out is never easy. With the Dynamics CRM mobile app, you can view various sales and marketing KPIs visually in the form of charts and get a quick and interactive view of how well you're tracking your goals.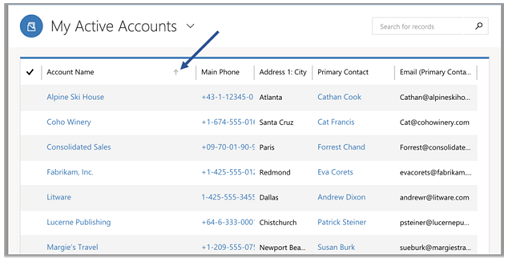 Customize Lists and Data Features
Gone are the days when you had to navigate through content-heavy apps to find what you are looking for. With the Microsoft Dynamics mobile app, you can personalize and sort items and records in lists and grids and have instant access to data that's most important.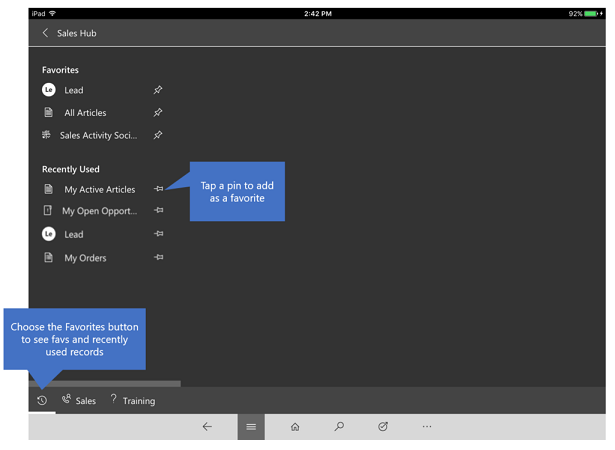 Pin Tiles to Homepage
If you find yourself frequently going back to a particular section of your app, Dynamics CRM allows you to get to the information quickly. Just pin favorites and recently used records to the home page and have quick access to the information you need to get on with your work.
Work Offline
For employees who work in remote places with intermittent or no network coverage, the offline access feature is very sought-after. Irrespective of whether there is connectivity, you can continue to work with your CRM app using offline drafts that automatically get saved once you are re-connected. Your offline data gets saved locally and is synced with an online database as soon as you connect to a network.
Salesforce Mobile Features
The Salesforce mobile app puts all vital information at your fingertips, allowing you to be just as productive while on the road. You can have access to dashboards and reports, meetings and tasks, notifications and approvals, as well as lead and deal statuses. Let's look at the top mobile features of Salesforce:
Easily View Sales Numbers
With the Salesforce mobile app, you can pull up sales numbers and drive sales with a simple tap. You can align your team, manage leads, contacts, accounts, and opportunities and keep all CRM data current from anywhere.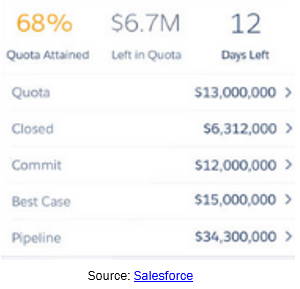 View a Day's Data in One Place
Imagine if you could view all customer related data from one day at one place? Well, with the Salesforce Mobile app you can. Salesforce allows you to view activities of an entire day at a glance – you can get a comprehensive view of all meetings, account details, tasks and more anywhere you are.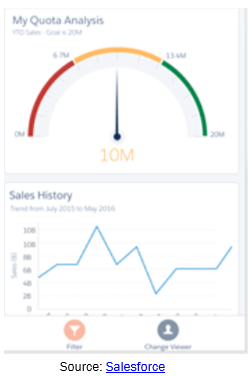 Access Real-Time Dashboards
Access to real-time dashboards are integral to any CRM resource. With Salesforce, you can speed your decision-making with real-time data of sales, service, marketing, and business performance from dashboards.
Approve Requests
Very often, the sea of requests makes managing them a herculean task. But not with the Salesforce mobile app. Salesforce allows you to view urgent posts and approval requests easily; get notified on the most urgent posts and approval requests in the notification center and instantly approve them with the click of a button.
Create Custom Reports
Salesforce makes creating custom reports extremely easy. You can not only select and include items you need, but also get down to the color of the bar graph you want on the analytics report.
Share Ideas and Files
Salesforce Mobile app provides easy collaboration to share ideas and files with your team. The collaboration and groups feature lets you access groups and people and share feeds and files and collaborate with customers or colleagues on the go.
Deploy AppExchange Apps
Salesforce AppExchange, Salesforce's cloud computing marketplace, is the ideal place to access, download, and install software apps. Using your mobile phone, you can choose from hundreds of AppExchange Apps and instantly deploy the ones that are critical for you.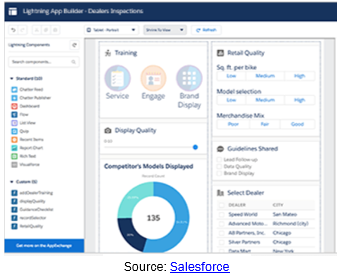 Which Mobile CRM Fits Your Business Best?
Mobile has completely transformed the way we do business and the way we use CRM. From making sales appointments on the go to viewing critical customer information, accessing the latest sales report to approving requests and tracking KPIs – mobile CRM is no longer an option, but a need. With every organization having very specific requirements when it comes to mobile functionality, compatibility, customizations, and user adoption, it becomes extremely important to choose the right mobile CRM that best fits your needs. So, carefully gauge the features of Dynamics CRM and Salesforce mobile and make the right choice.
Learn more about using CRM mobile features to transform your marketing and sales processes.
Related Articles: