Goal management in Dynamics 365 is a tool which provides the ability to manage KPIs in just a few clicks. You can use goals to compare targets and actuals for a defined period. And given the fact that Goals is an out of the box feature with Dynamics 365, you can set them up in no time at all. Additionally, since Goals are native to the system, they work seamlessly with workflows, business rules and other various Dynamics 365 functions.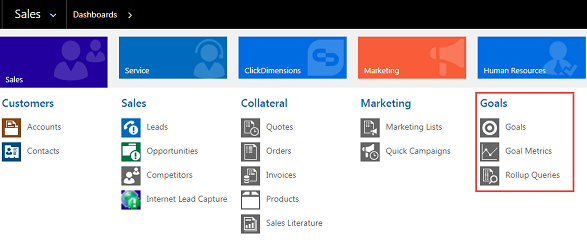 To help you understand how goals work, consider the following scenario:
Your company sells drywall, you, as the sales manager, want to set a revenue target for the overall sales team and then targets for each individual sales team rep who will contribute to the sales team target. With the given targets you want the ability to monitor progress throughout the fiscal period.
To get the results you desire you will need to utilize a couple of entities in Dynamics 365 and create a handful of records:
1. Goal Metric: this allows you to set the detailed measurement (amount or count) for the defined goals. You can create multiple goal metric records to measure different elements, revenue and number of panels sold for example.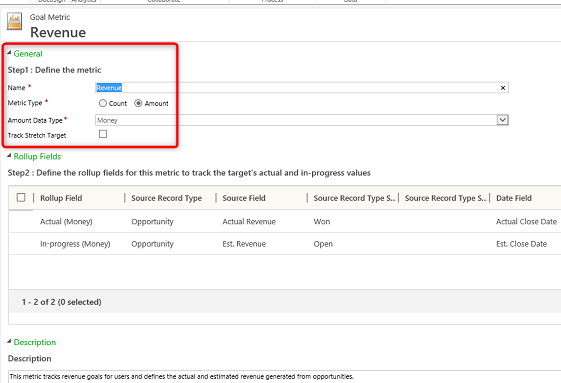 2. Rollup Fields: the goal metric includes a section where you identify the rollup fields which will be used to track against the metric. You will define rollup fields which will be used to measure both the in progress and actual values.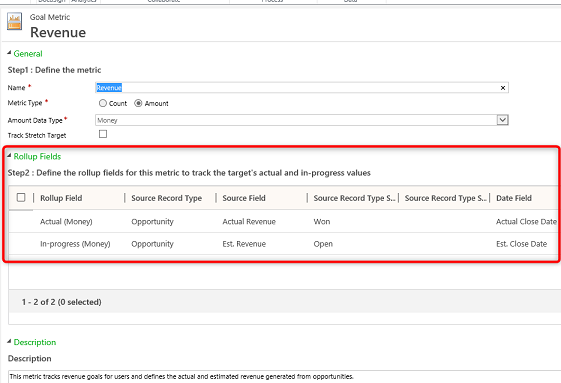 3. Goal: the entity where you will define who is responsible for the goal, the metric being measured and the target. In the scenario where you are setting an overall sales team goal and then individual goals, you will create multiple goal records (1 for the overall cumulative goal, and then 1 for each sales team member).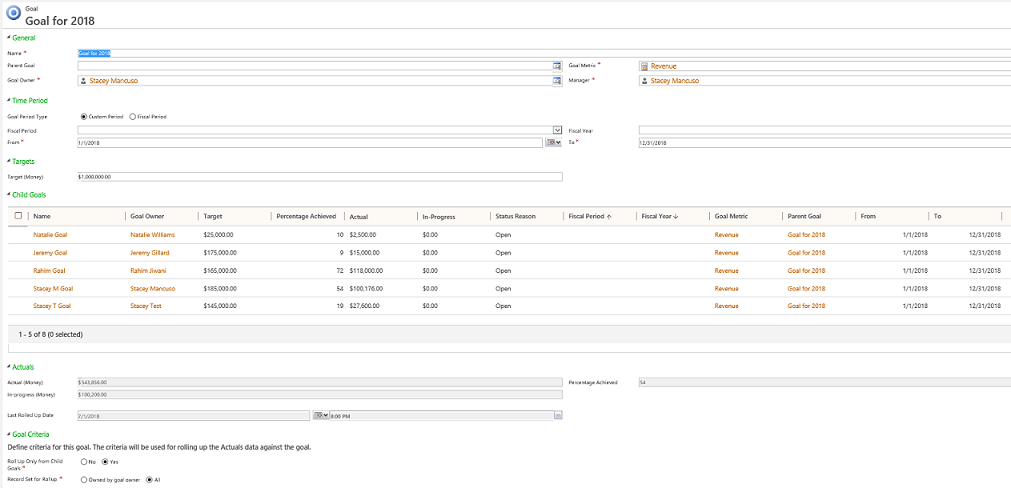 All sales records identified will be rolled up against each sales agent's goal, which is the child goals. Then the child goals will be rolled up to the parent goal, which is the overall sales team goal. You can then set up a dashboard with data components which display goal metrics, allowing you to sit back and monitor results as they start rolling in.
If you need assistance or have any questions while setting up goals, please reach out to our support team at [email protected]. We are always happy to help you increase the productivity of your Dynamics 365 environment!