Microsoft Dynamics CRM has always been a robust platform with myriad functionality. Dynamics CRM 2015 User Release 1 brings plenty of overhauls to the CRM platform. But like other software, the newest release is never perfect. User Release 1, while a great step forward in CRM functionality, has a bug of its own. Embedded Charts no longer appear in sub-grids in regular entities. These charts add a visual representation to the data our users require and their presence makes respective databases much more readable. Here at Beringer Associates, we are committed to facilitating a smooth update to the newest release of CRM. Below I'll show you a simple way to work around this issue while Microsoft works on fixing its bug.
The image below shows an Account in Dynamics CRM 2015. The red arrow shows the embedded chart to the right. The chart represents the information shown to the left in Sales History By Supplier.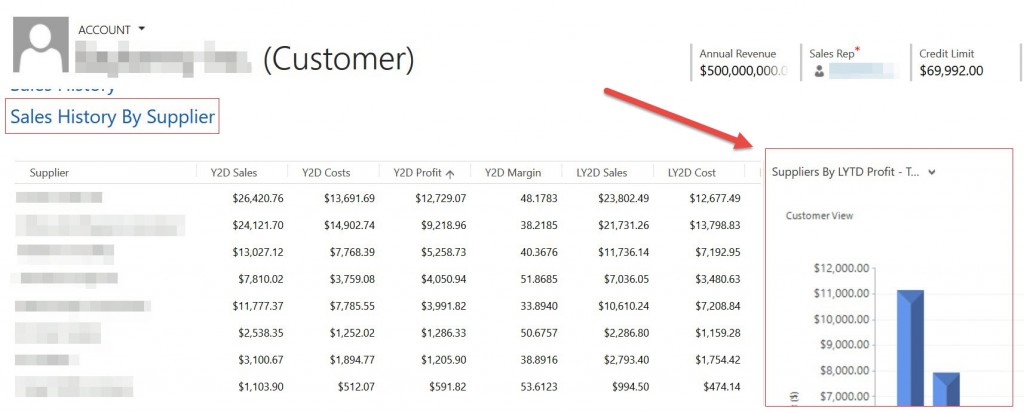 Next we have a screenshot of Dynamics CRM 2015 User Release 1. As you can see below, there is no embedded chart. The current workaround is to include an option to see the Views associated with the entity, or Associated Views.

After clicking that option, users are brought to an Associated View. This gives them the option to select a Chart pane and have it appear to the right. This is currently the only way to deal with the lack of embedded charts on your respective form.

With this work-around, users can see embedded charts in their associated view until Microsoft can implement a fix to this bug.
Thanks for reading! Feel free to check out other blogs I've written as well as other Beringer blogs here.
Beringer Associates a leading Microsoft Gold Certified Partner specializing in Microsoft Dynamics CRM and CRM for Distribution. We also provide expert managed IT services, cloud based computing and unified communication systems.
by Beringer Associates