Your upgrade was completed by Microsoft and now your users cannot connect to Microsoft CRM 2015 with their Outlook Client. When configuring the client, you receive a generic error stating "There is a problem communicating with Microsoft Dynamics CRM server". Fortunately, the error also includes a "Help me resolve this issue" link.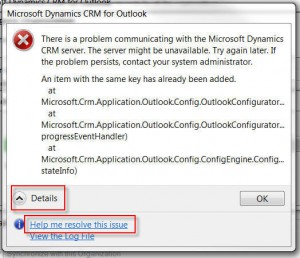 The webpage you are taken to when clicking the "Help me..." link states that this is a CRM 2011 issue but it does apply to CRM 2015.
So what's the solution? As the article explains, it's possible you have a duplicate entry in your sitemap for CRM 2015. The article also explains how to remedy the issue.
Here's a brief description:
Create a new solution in CRM and add the sitemap.
Export the solution.
Open the solution (zip file) and then open the "customizations.xml" file with notepad.
Look for a duplicate "SubArea ID" entry within an "Area ID" and delete it.
Save the "customization.xml" file.
Import your solution.
Publish customizations.
Try configuring the Outlook Client again
With my issue, I had 2 "SubArea Id='nav_answers'" in the Services area. Once I removed one, the issue resolved.
NOTE: Backup the original sitemap export in case you need to revert back.
Beringer Associates a leading Microsoft Gold Certified Partner specializing in Microsoft Dynamics CRM and CRM for Distribution. We also provide expert managed IT services, cloud based computing and unified communication systems.